Certificate of Appreciation Presented to Aspirus Langlade Hospital by Wisconsin National Guard | Press room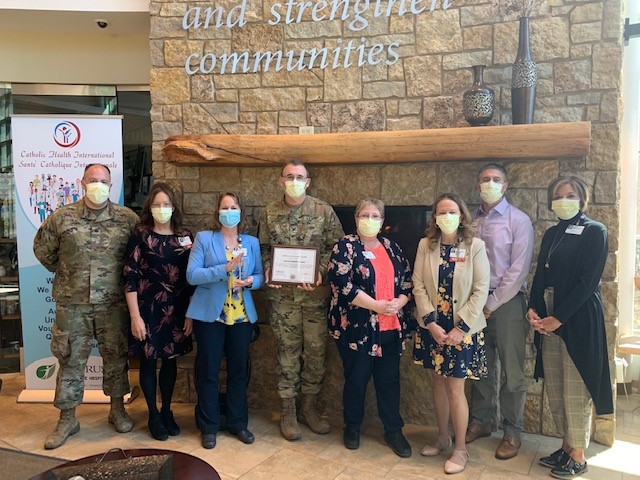 Aspirus Langlade Hospital (ALH) recently received a Certificate of Appreciation from the Wisconsin National Guard for participating in its mission to support state healthcare facilities.
The Wisconsin National Guard support mission filled various roles in healthcare facilities beginning in January 2022, when the state was dealing with Omicron variant COVID-19 and chronic staffing shortages in the healthcare sector. health.
ALH received assistance from two Wisconsin National Guard sergeants, Steven Brice and Jared Brandt, who were very willing to assist in any capacity where the hospital needed personnel assistance during the time they were affected. Two departments identified as needing assistance were Environmental Services (EVS) and Maintenance. A range of tasks were accomplished during their time at ALH, ranging from repairs and preventative maintenance, to floor care and general and specialist cleaning. Every task, big or small, is essential to maintaining a safe and healthy environment for patients and staff.
"ALH is honored and would like to sincerely thank the Wisconsin National Guard for coming to our facilities and assisting us when needed. The repercussions of COVID surges have been difficult," said Deakin Washatko, director of divisional operational services.
The certificate of appreciation reads as follows:
On behalf of the Adjutant General, we would like to express our sincere appreciation and gratitude for your partnership and support of the Wisconsin National Guard, the Wisconsin Department of Health Services, and our communities during the augmentation of COVID-19 healthcare from March 14 to April 29, 2022. Your dedication and service enabled the state to provide vital care during a time of critical need and embodies the National Guard spirit of "Always Ready , still there!" We are proud to have served alongside you, forward!

"I would just like to say that the work they have done to help our maintenance department has been much appreciated and has not gone unnoticed," said Jason Noskowiak, Maintenance and Facilities Manager. thank you all for your dedication to serving this country and knowing that you are packing your stuff to help another in need is very inspiring!"
"Both Wisconsin National Guard sergeants, Brice and Jared, showed nothing but positivity and willingness to help like Brice with his power to do anything and Jared with his 'let's do it' attitude. , said Carolyn Cahak, Director of Environmental Services, "Both men demonstrated their own special abilities with EVS and Maintenance, and we are grateful to them."

ALH appreciates the opportunity to participate in the program during such a difficult time and especially for the service of Brice and Jared of the Wisconsin National Guard.
Pictured from left to right: SGT. Steven Brice, Lynne Dafoe, director of clinics; Sherry Bunten, president of the ALH; COLLAR. Randall Myszka; Carolyn Cahak, Director of Environmental Services; Mary Moore, Acting Vice President of Patient Care/CNO; Deakin Washatko, director of divisional operational services; and Janelle Markgraf, vice president of human resources for the region.