Loving and Living Life: Debi and David Bock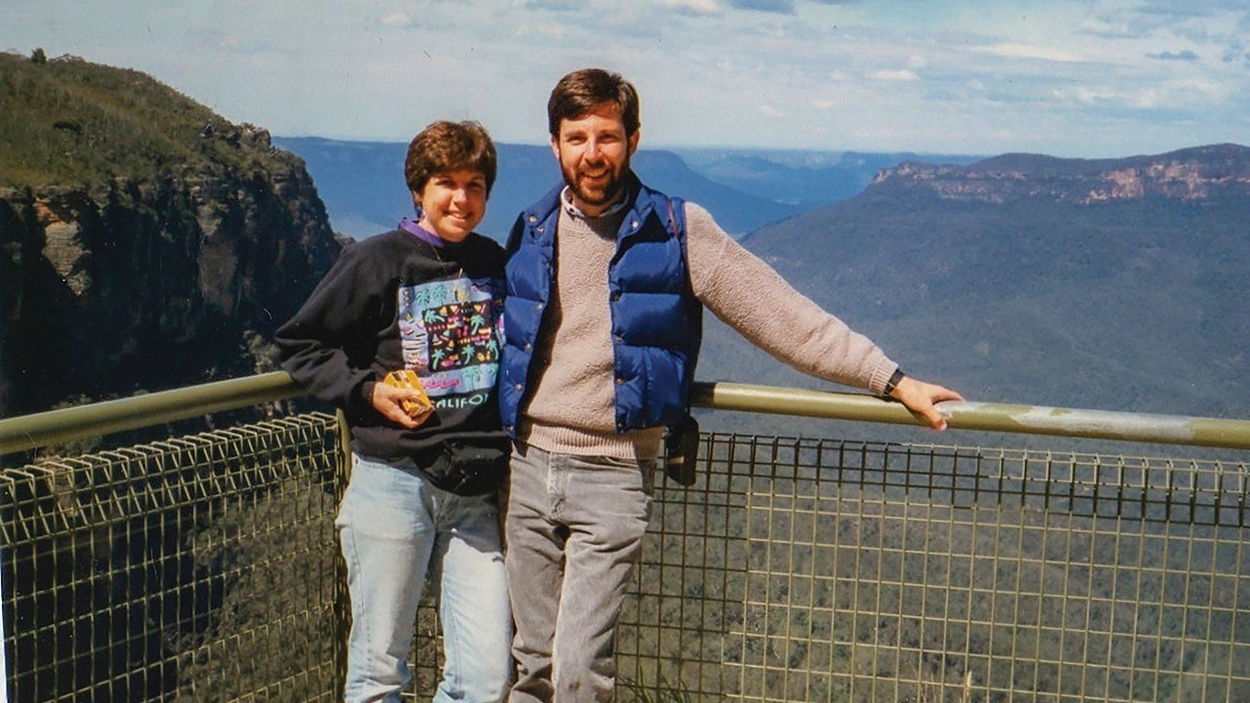 Publish: March-2022
Despite her friends' warnings, she just couldn't resist this guy at the meeting. Thirty-one years later, Debi and David Bock are proof that sometimes it's enough to listen to your heart.
---
LnRiLWNvbnRhaW5lcltkYXRhLXRvb2xzZXQtYmxvY2tzLWNvbnRhaW5lcj0iMGQxNDkzYzBjZWM1YzQyMmRiMzNlOTc2NmZjYTFmZDciXSB7IHBhZGRpbmc6IDEwcHggNDBweCAxMHB4IDQwcHg7IH0gLnRiLWNvbnRhaW5lcltkYXRhLXRvb2xzZXQtYmxvY2tzLWNvbnRhaW5lcj0iZWQzODMyYWE2MjAxY2JlYzViMWU1YjkwMmRjMDY3ZTIiXSB7IHBhZGRpbmc6IDI1cHg7IH0gLnRiLWJ1dHRvbltkYXRhLXRvb2xzZXQtYmxvY2tzLWJ1dHRvbj0iZTVkMGMwYWZjZWM1ZWRiOTA5MWEwMGU3Zjc2ZmJjODkiXSAudGItYnV0dG9uX19saW5rIHsgYmFja2dyb3VuZC1jb2xvcjogcmdiYSggMTU5LCA4MiwgNTcsIDEgKTtib3JkZXItcmFkaXVzOiAwO2NvbG9yOiByZ2JhKCAyNTUsIDI1NSwgMjU1LCAxICk7Zm9udC1zaXplOiAxMnB4O2xpbmUtaGVpZ2h0OiAxMHB4O3RleHQtdHJhbnNmb3JtOiB1cHBlcmNhc2U7Y29sb3I6IHJnYmEoIDI1NSwgMjU1LCAyNTUsIDEgKTsgfSAudGItYnV0dG9uW2RhdGEtdG9vbHNldC1ibG9ja3MtYnV0dG9uPSJlNWQwYzBhZmNlYzVlZGI5MDkxYTAwZTdmNzZmYmM4OSJdIC50Yi1idXR0b25fX2ljb24geyBmb250LWZhbWlseTogZGFzaGljb25zO21hcmdpbi1yaWdodDogNXB4OyB9IC50Yi1idXR0b25bZGF0YS10b29sc2V0LWJsb2Nrcy1idXR0b249ImU1ZDBjMGFmY2VjNWVkYjkwOTFhMDBlN2Y3NmZiYzg5Il0gLnRiLWJ1dHRvbl9faWNvbjo6YmVmb3JlIHsgY29udGVudDogJ1xmNTA4JzsgfSAudGItZmllbGRbZGF0YS10b29sc2V0LWJsb2Nrcy1maWVsZD0iZTk1NDE4ZjgxYmZmMjFjMzQ1OTZkYjY2MjhmNDVlYjIiXSBhIHsgdGV4dC1kZWNvcmF0aW9uOiBub25lOyB9ICBbZGF0YS10b29sc2V0LWJsb2Nrcy1pbWFnZT0iZjI5MTJiODMzZDM1MjEzYmNiOGM3MzhlZGMwZjU5ZTciXSB7IG1heC13aWR0aDogMTAwJTsgfSAudGItZmllbGRzLWFuZC10ZXh0W2RhdGEtdG9vbHNldC1ibG9ja3MtZmllbGRzLWFuZC10ZXh0PSI4YmFhZjBmOTZlZGYzMzJkZTg4MmRmZDIzNDVkZjYzMiJdIHsgbWFyZ2luLXRvcDogMDtwYWRkaW5nLXRvcDogMDsgfSBAbWVkaWEgb25seSBzY3JlZW4gYW5kIChtYXgtd2lkdGg6IDc4MXB4KSB7IC50Yi1maWVsZFtkYXRhLXRvb2xzZXQtYmxvY2tzLWZpZWxkPSJlOTU0MThmODFiZmYyMWMzNDU5NmRiNjYyOGY0NWViMiJdIGEgeyB0ZXh0LWRlY29yYXRpb246IG5vbmU7IH0gICB9IEBtZWRpYSBvbmx5IHNjcmVlbiBhbmQgKG1heC13aWR0aDogNTk5cHgpIHsgLnRiLWZpZWxkW2RhdGEtdG9vbHNldC1ibG9ja3MtZmllbGQ9ImU5NTQxOGY4MWJmZjIxYzM0NTk2ZGI2NjI4ZjQ1ZWIyIl0gYSB7IHRleHQtZGVjb3JhdGlvbjogbm9uZTsgfSAgIH0g
The story of Debi and David Bock's romance encapsulates one of life's most intriguing subjects – how two people fall in love with each other.
And it's a story that reveals one of life's ironies – that what might start as a fleeting encounter could turn into a lifelong commitment.
It couldn't be predicted that Debi and David Bock would end up falling in love with each other when they met at a camp staff meeting on Memorial Day weekend in 1990. Debi hadn't that recently broke up a relationship, and a few days earlier, David had filed for divorce.
Perhaps that's why friends advised Debi to avoid David – as she did on her first day. Still, she had to admit that when she looked up and spotted David across the parking lot, she found him attractive. At the last hour, they joined a hike with a group of friends and ended up talking into the night. After two days, they clearly changed their minds.
The next day, the couple returned to Atlanta and Debi invited David to her home. He never left – moving in after the weekend.
"Debi is smart and cute and funny," said David, who added that "when you know, you just know."
A year after that marathon date, David proposed, and they got married in Atlanta in a house they had bought together.
David was already the father of two boys when they met – 2 and 5 – and Debi soon gave birth to two girls. Life must have been busy and hectic raising four kids, working in real e
the development of the state, the construction of houses and the participation in the activities of their children.
In 1999 they built what was to be a weekend home in Highlands. Once the house was completed, they realized Highlands offered some unique opportunities. By the fall of 1999, they had started a few "specific" houses in town and decided to relocate their business.
But Debi didn't want to move the Atlanta kids and their friends. There was, as David puts it, "a lot of back and forth" over the next 15 years. It is a testament to the strength of their bond that their marriage has survived the distance and thousands of days apart. Certainly, it is also a poignant illustration of their endurance love and devotion.
As David explains, "She's genuine, keeps me focused, and kicks my ass when I need to." And she's my best friend. We do everything together – work, travel and play. We like to be with friends, but we just like to be with each other.
Debi tells me that "David is a real Boy Scout. He is the most honest, sincere and reliable person I know. And it can also be fun!
Today, the couple own several businesses in the Highlands – David Bock Builders, 4th Street Market, The Bridge at Mill Creek Restaurant, Mill Creek Village and Inn at Mill Creek. They love to travel and do so whenever they can take a break from work.
Years ago, they promised their children that they would visit all 50 states before they turned 18 – the adventures filling them all with a true love for exploration.
Their hopes for the future – a long, healthy life with more grandchildren, more travel and less work.