Q&A: Andrew Goetz of MALIN+GOETZ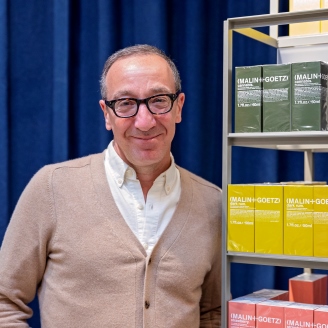 Shops & Services
To mark the launch of the Cabot Place store, we joined company co-founder Andrew Goetz to learn more about the brand.
May 11, 2022
Canary Wharf welcomed cult New York apothecary brand MALIN+GOETZ to Cabot Place. Founded in Manhattan in 2004 by Matthew Malin and Andrew Goetz, the brand has built a devoted following through its simple approach to ethical skincare, architectural stores and design-conscious packaging.
Inspired by traditional neighborhood apothecaries, MALIN+GOETZ products are designed to suit all skin types, are made locally in New York and are never tested on animals.
To mark the launch of the Cabot Place store, Wharf News joined company co-founder Andrew Goetz for breakfast at Caravan's all-day restaurant to learn more about the brand.
What inspired you to create MALIN+GOETZ?
My partner Matthew, who is my partner in life and in work, came from the beauty world and I always visited him at different places of work. Coming from a design background – I worked as a marketing director for Swiss furniture manufacturer Vitra – I would come in and think so much could be improved. The packaging was everywhere. There were too many products. It was intimidating. One of the last places Matthew worked before we started our business was Kiehl's. I looked at it and said there was a real opportunity to create an apothecary experience but to keep it simple, don't do anything complicated. Do something very minimalist and modern. Review an old apothecary and modernize it. Make it less intimidating. Not just from a packaging perspective, but from a formula perspective. It became a fusion of her world of beauty and my world of architecture and design.
How did you initially launch MALIN+GOETZ?
The idea was to launch our brand in New York with our own store, and we probably got really lucky because we ended up being the merchants above the store. Our store was literally below our apartment. We also launched at Barneys New York, which was the first US department store at the time, Liberty of London, and with an e-commerce site. We also walked into many design-oriented hotels, basically offering free samples. Like London, New York is a media hub. So we would have dinners with all the editors. I cooked all the food in the apartment upstairs, then I would bring it down and throw parties in the store. It became kind of a thing to do. Our marketing was very guerrilla.
Your packaging has been exhibited at the San Francisco Museum of Art. What did that mean to you?
To be completely clear, I'm not a designer. I'm a marketing guy. The design firm that designed our packaging, 2×4, which I hired through Vitra a million years ago. They are amazing graphic designers and I have always loved working with them. They were always very smart and articulate in explaining why something worked and for what reasons. We had always had this collection of glass apothecary jars, late 19andbrown glasses from the last century, and we literally bought them in the office 2×4 and said "we like it, but we have to do something modern and contemporary". So they just retrofitted one of those old apothecary jars.
How and where are MALIN+GOETZ products made?
Neither Matthew nor I are chemists. We don't claim to be either. But we work closely with our chemists. We'll come up with a concept, identify where we think there's a void, and then it becomes a creative process. You go back and forth, back and forth, and finally you get to the product. Sometimes it's really easy and sometimes it's really hard. We are about to launch a new SPF 30, for example. It took almost four years to get it right. We will never do anything for a trend. We will never do something unless there is a real need. Everything is made within a 90 mile radius of New York, so we try to reduce the carbon footprint as much as possible.
What made Canary Wharf such an attractive place to open a new store?
Canary Wharf has changed so much. It has evolved from what was once strictly a business district to a true 24/7 environment. You have people who work here, but you also have people who live here. There is a large selection of shops. It just felt like a natural fit for us.
Is it possible to describe the typical MALIN+GOETZ customer?
They probably share a lot in common. I wouldn't say our client is just a beauty or grooming junkie. He's a lifestyle customer. In many ways, he's someone who's no different from Matthew and me. We like to travel, we like to eat out, we like to go to the theatre. You can't really categorize them into just one type of person. Probably someone who likes the urban environment. Whether it's New York or London or LA or Hong Kong.
What is your client breakdown, male-female?
Almost 50:50. It's been very consistent since the start. The day we opened this store in Chelsea, New York, it was 50% women, 50% men.
Does MALIN+GOETZ have a halo product?
We have more than one halo product, we have halo products in every category. We have 'face', 'body', 'hair', 'perfume' and 'candles'. And in each of those categories, we have a superstar. With 'face', there is more than one. Our Grapefruit Face Wash and Vitamin E Face Moisturizer are superstars. But so does our detoxifying face mask, and our spot treatment is out of this world. In 'body', our eucalyptus deodorant is perhaps one of our best-selling products. In 'hair' it's our peppermint shampoo and moisturizing conditioner.
What is your best-selling product?
Our Vitamin E Face Moisturizer. Closely followed by our Eucalyptus Deodorant.
What is your favorite MALIN+GOETZ product?
Ah, the question of choosing Sophie! I love all my children equally! I use the Grapefruit Face Wash, Vitamin E Face Moisturizer, and Eucalyptus Deodorant daily.
What is your favorite day of the week and why?
Friday, because I'm leaving the city and going to the country.
Favorite city?
Amsterdam.
Favorite vacation destination?
Positano, Italy.
The last book you read?
Think, fast and slow by Daniel Kahneman.
The last piece you saw?
take me out, about a gay baseball player.
The most indulgent luxury you've ever allowed yourself?
Staying at an amazing hotel in Rome was probably more than we could afford – but it was worth every penny.
Favorite guilty pleasure?
Wine.
What's the best series you've watched lately?
Andy Warhol's Diaries on Netflix.
Find MALIN+GOETZ, in Cabot Place