Rainsville Spill Chemicals Monitored in Fort Payne | New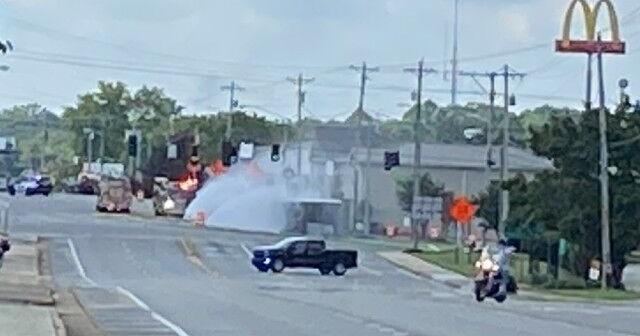 Friday afternoon update: The chemicals were transported to land in Fort Payne before being disposed of. A smoke-like substance appeared to come from containers containing the organic peroxide. As a precaution, two nearby businesses have closed for the day, and police, firefighters and EMA are on hand to monitor the situation.
Friday morning update: Crews have reopened much of the intersection of Alabama 75 and Alabama 35. The shoulder in front of the police department remains closed.
The recommended evacuation has been lifted. Rainsville police said it was now safe for people to be in the area and windows and doors were open.
Cornerstone Christian Academy will begin at 10:00 a.m. Friday morning. Plainview and the DeKalb County Technology Center operate normal hours.
Hazmat teams expect to complete work in the area by noon.
---
Hazmat crews from Atlanta were in Rainsville Thursday night to begin the cleanup process after an overturned tractor-trailer caused a chemical spill near a major intersection.
The intersection of Alabama 75 and Alabama 35 will be completely closed while crews conduct testing, remove the overturned tractor-trailer and ensure the area is safe.
DeKalb County EMA Director Anthony Clifton said officials hoped to at least partially open the intersection while cleanup continued, but it was deemed unsafe.
"Once (hazmat) arrived here and discovered the space we had to work with, they told us that under no circumstances would we be allowed to bring traffic through here until the cleaning was done. done," Clifton said. .
The chemical spilled was organic peroxide, which smells strongly of vinegar and can cause a number of health issues, including breathing difficulties and mild chest pain.
"It's like breathing in strong bleach. … It's industrial grade, which means it's very toxic," Clifton said. "It's an oxidizer. It has an explosive property. It can burn, so that's one of the reasons we have to be so careful."
Earlier Thursday afternoon, crews spent hours spraying the truck to keep its temperature low and prevent an explosion or fire, as well as keep fumes away. Now, hazmat crews will assess the situation to see how much has been damaged and what will be needed for cleanup, Clifton said.
Fortunately, there were no medical calls related to the chemical spill. The truck driver is also OK.
Businesses in the area were evacuated after the spill on Thursday and will not be allowed to return until Friday morning at the earliest. It all depends on the cleaning process.
Homes were also evacuated and families with students from Cornerstone Christian Academy or Plainview High were asked to pick up their children early from school.
The mayor said that was what they had to do to keep everyone safe.
"We hate inconvenience for everyone, but you know, sometimes things like this happen and it's out of our control. It's out of our control," Rainsville Mayor Rodger Lingerfelt said. "…These agencies are doing their best to get this under control and keep people safe. That's one of the main things, keeping everyone safe, and so we appreciate their patience and we'll get them back." go as fast as possible."
At 6:30 p.m. Thursday, evacuated residents were allowed to return home, although the EMA asked residents who lived within a quarter mile of the intersection to keep windows and doors closed as a precaution. .
Rainsville's police chief said about 20,000 cars pass through the intersection each day. Law enforcement from across DeKalb County responded to the scene to assist.