Renowned nutritionist Rujuta Diwekar's top 4 tips to keep kids healthy during the monsoon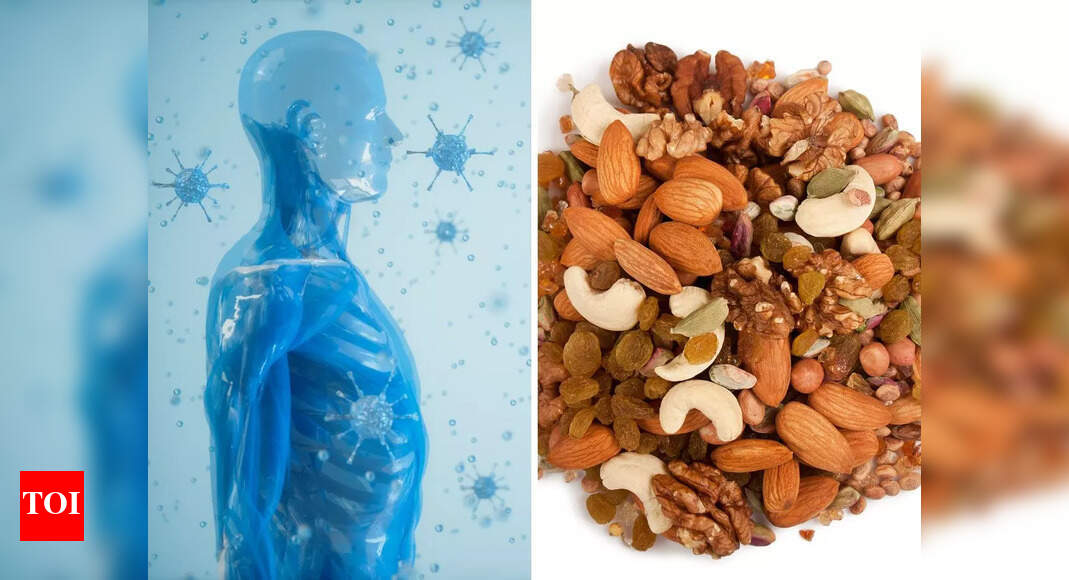 As parents try to protect their children from seasonal illnesses, allergies, and other ailments that the rainy season brings with them, renowned nutritionist Rujuta Diwekar, in her audiobook titled "Secrets of Good Health" available on Audible, shares tips to boost their immunity.

START THE DAY WITH DRIED FRUITS
To make sure your kids fill those rainy, dark days with energy, Rujuta recommends parents "Start the day with one of these three things. Ek to start, fresh fruit in the morning ya fir soaked in badam ya fir bhigoye hue kaale munannake with a sprig or two of kesar. (Start the day with either a fruit or soaked almonds or a raisin soaked with 2 strands of saffron). This not only helps maintain their energy levels, but walnuts have also been proven to improve the overall immunity of the body. Almonds contain antioxidants that protect cells against damage and contain iron and proteins essential for the proper functioning of the immune system.

"AMLA KA DOSE HAR ROZ" MAKE SURE YOUR CHILD EAT IMMUNITY-BOOSTING FRUITS AND VEGETABLES


"Amla ka dose har roze," says Rujuta Diwekar. Amla, also known as "The Wonder fruit", is a great solution to several problems. According to Rujuta "Amla fights infections and even headaches or dizziness with its high levels of vitamin C." For parents who find it difficult to give Alma to their children, Rujuta suggests that "Amla can be consumed as it is or in the form of Chyavanprash, pickle, sharbat or even Murabba".

PLAY AND EXERCISE EVEN INDOORS


The downside of monsoons is that children end up being confined to their homes. However, for good immunity, Rujuta suggests playing every day, even indoors. "Har ek bacche ko, aur especially bacchiyon ko, kam se kam 90 minutes din main khelna-koodna chahiye. Joh bhi unhe pasand ho, uss khel-kood main waqt guzarna chahiye. Agar 90 minutes ek saath possible nahi hai, at least 60 minutes din main unhe khelna-koodna chahiye. Har ek bacche ko balance sports seekhna bahut zaroori hai. Kya hai, ki jab humare bacche 60 minutes din main dum lagakar khelte hai, tabhi unki bone density badhti hai. Bone density Jab badhti hai, toh sehat bhi acchi rehti hai. Aur buddhi bhi acchi chalti hai. Nearly 90% of our bone density is formed in childhood. (Every child, especially girls, should have at least 90 minutes of playing time. They should spend time playing any sport they like. If 90 minutes in a row is not possible, then at least 60 minutes a day is necessary. Every child should learn to balance sports. The fact is that when our children put their heart and soul into playing a sport every day, their bone density increases. When this happens, they are healthy. And their mind works well too. Nearly 90% of our bone density is invented in childhood.)
PROVIDE HOMEMADE, LOCAL, TRADITIONAL AND SEASONAL FOOD SUBSTITUTES
The urge to order out or eat packaged food and lazily watch the rains is strong during monsoons. But it's important to provide food substitutes and healthier options for children. Rujuta says, "Main food constant aapko bachon ko dene chahiye options. Options jahan unko constantly packaged food ke liye ghar by banaya hua better, healthier, much more nutritious and much tastier option ready ho. Agar bachhe ketchup maange, toh unko bolo ki ketchup nahi, but chutney khao. Kyun chutney khani chahiye? Kyunki aapko chutney main itne saare nutrients milenge jo aapko ketchup main se obviously nahi milne waala. (You should constantly give children options when it comes to food. Give those options where instead of packaged foods, they get better, healthier, tastier and more nutritious homemade foods. If your child asks for ketchup, offer chutney instead. This is because chutney contains a lot of nutrients that you obviously won't find in ketchup.)
She further adds, "Agar chips maangte hai, toh kaju khilao. Agar kiwi maangte hai, toh kela khilao. Basically local har time, seasonal traditional aur ghar pe banaye options hi khilao." Maangte hai agar chips, toh kaju khilao. Agar kiwi maangte hai, toh kela khilao.
Basically local har time, seasonal traditional aur ghar pe banaye options hi khilao aur constant common sense lagao) If they ask for chips, offer them cashews. If they ask for kiwi, offer them bananas. Basically, offer local, seasonal and traditional homemade dishes every time.)