School Board Considering New Measures to Govern Sports and Extracurricular Activities in Times of High Risk | New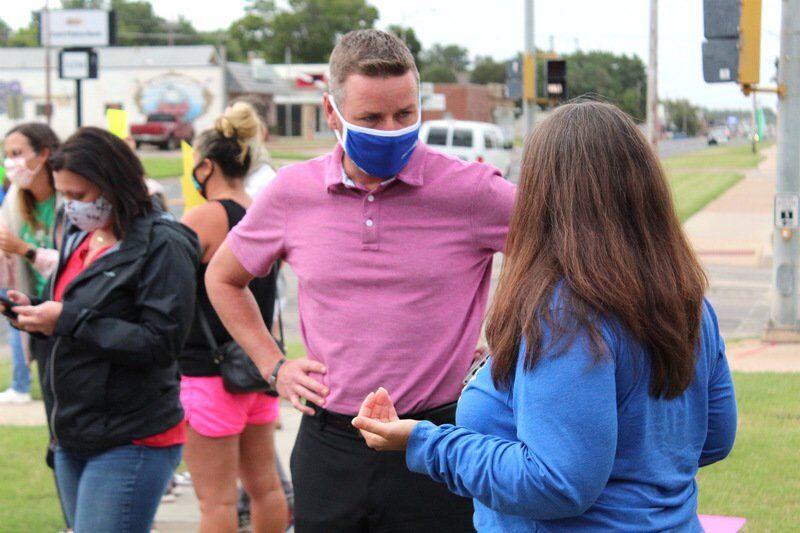 Stillwater Public Schools are wondering how to give its students an experience as close to nature as possible amid the rates of COVID-19 infection that have put Stillwater on the national radar. An important part of this experience is athletics and extracurricular activities.
But parents opposed to distance education for students enrolled in mainstream education, as has been the case over the past two weeks, have been scandalized by what they see as less essential activities that take place. sue when it is not considered safe for their children to be in class.
"You can understand the confusion this is causing in the community," said Camille Deyong, board member. "I don't know what the answer is, but it's difficult."
Deyong and board member Tim Riley spoke to protesters gathered outside the SPS administration building on Tuesday before the board convened for its virtual meeting.
Superintendent Marc Moore explained that school administrators viewed sports and other extracurricular activities as different from having 5,000 students and 800 staff in the enclosed environment of school buildings.
But there are concerns that it is safe to organize sporting events and extracurricular activities.
Stillwater is currently at Orange Level 2, the second to last, based on infections in Payne County.
Board chairman Mitsi Andrews has expressed strong reservations about hosting another football game while the district remains at high risk.
"I lost a lot of confidence in our community to follow what we said would happen if the guidelines and restrictions weren't followed," Andrews said.
Andrews said she met with the administrators ahead of last Friday's home opener, urging them to close the concession stand and implore spectators to abide by established restrictions.
She was disappointed to receive messages that evening telling her that many onlookers were not wearing face covers or wearing them incorrectly.
She urged the district to have people present to make sure spectators play by the rules.
Deyong has spoken out against forcing directors to comply with regulations at events, calling it "a source of division and volatility."
Board member Tim Riley said it was ultimately about letting people know they had to follow the rules if they wanted to attend football games.
"Help us help you enjoy the Friday night football," he said, summing up the problem for other board members who said they should put the saying on a t-shirt. .
District administrators asked the board to consider measures that would govern sports and extracurricular activities based on the same color-coding system that determines teaching methods as the number of infections increases in the community. .
The parameters will be evaluated in consultation with healthcare professionals and the board will review them again next week.
Assistant Superintendent Dana Renner presented measures for athletics, which referred to the policies of the Oklahoma Secondary Schools Athletics Association, and extracurricular activities like marching band and orchestra, choir, debate, academic bowl, FFA and other activities.
Many non-sporting activities will have their own governing bodies that have provided guidance. A few report to OSSAA, which has not played an active role in guiding districts in their fight against the pandemic.
Renner said SPS coordinates with other schools and, when traveling for events, will follow procedures adopted by the school with more stringent guidelines.
District administrators of measures recommend increased restrictions on movement and spectators as the district moves through the color-coded alert system.
The board ultimately decided to defer approval of the measures until next week, allowing Moore and his team to continue to manage them administratively, based on recommended guidelines.
Twitter: @mcharlesNP