Solve "The Mystery of Edwin Drood" March 13 – April 5 at Lyric Arts | Arts and entertainment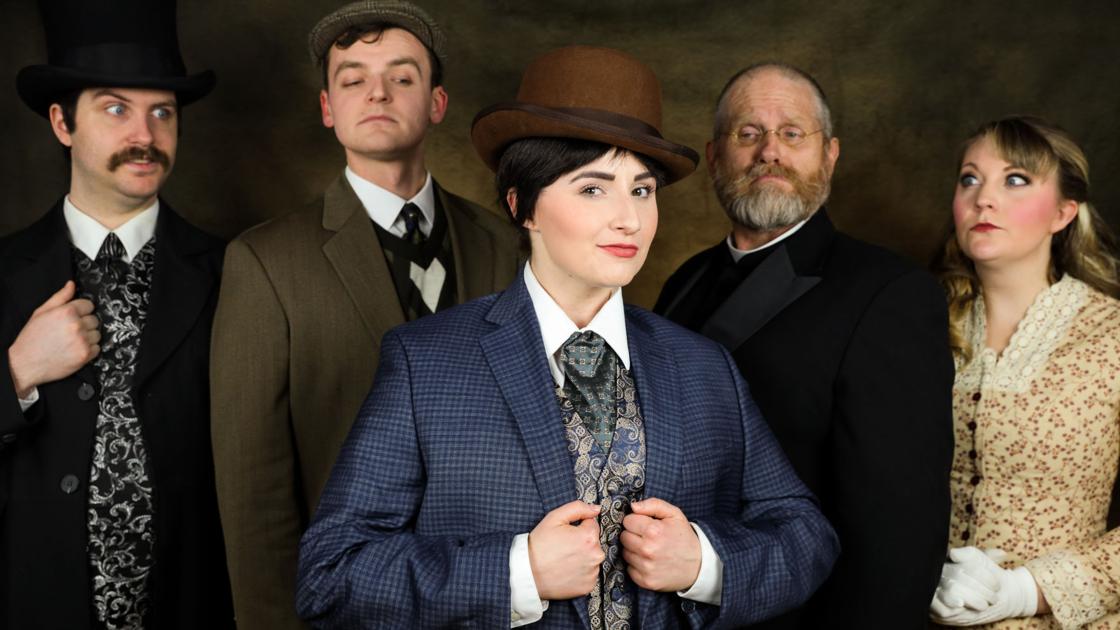 Discover "The Mystery of Edwin Drood" from March 13 to April 5 at Lyric Arts in Anoka.
"The Edwin Drood Mystery", or simply "Drood", is a melodramatic musical based on the last unfinished novel by Charles Dickens, which was originally serialized from April 1870 to February 1871. The last five installments are 'were never published due to Dickens' death of a stroke on June 9, 1870.
The one-off musical with book, music and lyrics by Rupert Holmes – best known for the 1979 pop hit "Escape (The Piña Colada Song)" – premiered on Broadway in 1985 and won six Tony Awards, including the Best Musical, Best Book of a Musical and Best Score.
Lyric Arts' production will be directed by resident director Matt McNabb, in collaboration with resident choreographer Lauri Kraft and musical director Ben Emory Larson.
"I consider 'Drood' to be a hidden gem… a truly one-of-a-kind musical theater experience," McNabb said.
The production team also includes director Ellen DeYoung, set designer Chad Van Kekrix, costume designer Samantha Fromm Haddow, lighting designer Jim Eischen, sound designer Lea Brucker, prop designer Emma Davis, dialect coach Keely Wolter and intimate coach Callie Meiners.
Audiences are invited to join the colorful figures of Music Hall Royale in London – a delightfully wacky Victorian theater group – as they present the murder mystery, "The Mystery of Edwin Drood".
The musical the troupe is playing centers around the young and charming Edwin Drood (Katie Strom Rozanas), who has been mysteriously murdered. The show-in-a-show is a roaring thriller.
"The Mystery of Edwin Drood" has a cast of 15 actors, including Kyler Chase (Cartwright President of Music Hall Royale), Gary S. Du Charme II (Mr. Clive Paget / John Jasper), Katie Strom Rozanas (Miss Alice Nutting / Edwin Drood), Kaitlyn Dahlquist (Miss Deidre Peregrine / Rosa Bud), Jamila Joiner (Miss Janet Conover / Helena Landless), Adán Varela (Mr. Victor Grinstead / Neville Landless), Peter Aitchison (Mr. Cedric Moncrieffe / The Reverend M . Crisparkle), Bette Lynn Block (Miss Angela Prysock / The Princess Puffer), Cam Pederson (Mr. Nick Cricker / Durdles), Nykeigh Larson (Master Nick Cricker / Deputy), Peter Kistler (Mr. James Throttle), Maddy La Roche (Miss Florence Gill / Flo), James Ehlenz (Mr. Nicholas Michael / Horace), Kaitlin Klemencic (Miss Isabel Yearsley / Wendy) and Brendan Veerman (Mr. Phillip Bax / Bazzard).
Kaitlyn Dahlquist (Miss Deidre Peregrine / Rosa Bud) has stated that her character Rosa Bud is the ingenu in "The Mystery of Edwin Drood" who is engaged to Drood, and all the other men in the room seek her affection.
"My character is the center of all conflict throughout the series," Dahlquist said. "Everyone on the show is fundamentally in love with her, and they are fighting over their hand in marriage.… Just being there, she causes all the conflict that causes someone to kill Drood.
Dahlquist said she doesn't normally play ingenuous and said "it's fun playing someone else".
McNabb said audience members will be treated like another character in "The Mystery of Edwin Drood" and that they will be involved in the musical through active participation and interactions.
"It is such an experience for the public," he said. "They are active participants in the show. He's a character from Music Hall Royale, and we talk to them throughout. Hope for a fun experience for everyone.
One of the greatest forms of audience participation on the show is that the audience will decide the final narrative of the story. Due to Dickens' untimely death, the ending and killer in "The Mystery of Edwin Drood" are never revealed.
"The actual resolution of the murder mystery has never been revealed," McNabb said. "When we get to that point in the show, the show suddenly stops, and it's up to the audience to determine the end of the show."
McNabb said the public will not only decide on the killer, but also on the identity of a loving couple and the identity of a detective shrouded in mystery.
"There are 31 different scenarios to repeat with 720 possible outcomes, so there won't be two identical performances," he said. "It obviously presents a lot of challenges, not only from a rehearsal standpoint, but also when you're creating the show as a whole, making sure that one of the end scenarios makes sense to the story as a whole. There's a lot going on there, and I think that's what makes this show so fun and so unique.
Katie Strom Rozanas (Miss Alice Nutting / Edwin Drood) said audiences won't want to miss "The Mystery of Edwin Drood".
"It's a whole new way of experiencing theater," she said. "It's exciting to hear the audience's ideas and perspectives on how the story should be. "
"I think the public should expect to be surprised," added Brendan Veerman (Mr. Phillip Bax / Bazzard). "It's really shocking how smart and fun the show is, and if audiences go for it looking to have fun, then they absolutely will."
To learn more about "The Mystery of Edwin Drood", visit lyricarts.org.