Suzanne Downing: Blaming 'Misinformation', Dr Zink Is Doing Alaskans A Disservice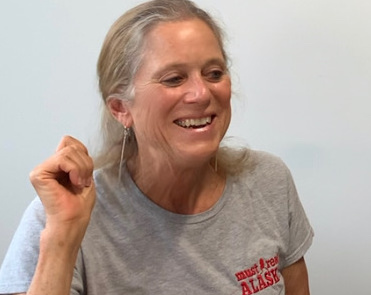 One of the most disappointing reads of the season was the October 27 opinion piece in The Washington Post written by Anne Zink, Chief Medical Officer of Alaska.
Most of it is an acceptable account of Alaska's experience with Covid-19. We did pretty well at first, and Gov. Mike Dunleavy's administration, including Zink, did a phenomenal job having test kits made in the state when it was nearly impossible to stock up on. They received protective gear shipped from China in record time.
Alaskans followed Dr. Zink's advice in February 2020 to wash their hands frequently for 20 seconds and sneeze into their sleeves. She officially declared at the start of the pandemic for declaring that surgical masks were essentially petrie dishes.
"A mask is a humid and humid environment that collects viruses and bacteria… It is not useful for protecting yourself from others," she said during a legislative hearing.
In June 2020, Zink had changed her mind about why she wears a mask: "Humility: I don't know if I have COVID because it's clear that people can spread the disease before they have symptoms. 2. Kindness: I don't know if the person I'm close to has a child who is battling cancer or caring for their elderly mother. While I may be fine, they might not be. 3. Community: I want my community to thrive, businesses to stay open, and employees to stay healthy. Keeping a lid on COVID helps us all. "
It's very laudable and noble, but 180 degrees from what she said in February 2020, and not particularly backed by science.
In The Washington Post last month, Zink praised Alaska's good appearance on the national stage at the start of the pandemic, then blamed Alaskans for the outbreak in the fall of 2021, when the number of cases increased.
Alaskans have fallen prey to disinformation, she said.
It's a curious argument: Alaskans, obviously, have a unique quality that makes them fall into the misinformation trap while the people of Florida, with some of the lowest Covid case numbers in the world, don't. do not.
Today, the number of cases is increasing in Iowa and Kansas. It must be that people are suddenly falling for misinformation in Iowa, but not in Alaska, because within weeks of rising and causing concern in hospitals in late September, Alaska's numbers have returned to what the World Health Organization considers the "green zone" of virus transmission – less than 5% in the past two weeks. Alaskans should congratulate themselves on not falling into the trap of disinformation.
Responsibility for disinformation rests with the medical community, policymakers and social media, but perhaps unevenly. Take the medical community first.
The struggle to understand what is likely a biological weapon, while sifting the data through the sieve of medical experience and teachings, has led the medical profession to make flawed recommendations to the public and to exclude avenues of investigation. important, such as early treatment.
The medical community, led by officials such as Dr Zink and Dr Anthony Fauci, has pushed for masks, distancing and finally a leaky vaccine as the primary method of controlling the disease. And yet, with this sneaky virus, it is evident that the vaccine is not going to be successful, as in less than two years the virus has evolved from its initial stage, to the more virulent Delta, and now to the even worse variant called "omicron This virus, unlike viruses that come from nature, reminds us of the Greek mythological creature Hydra; every time one head is cut off, two more grow back.
The jury is still out on whether the mass vaccination program is a good idea, but Zink's claim that low vaccination rates and reluctance to vaccinate in Alaska are a major reason for the September surge. is not substantiated. 81% of Juneau's population is vaccinated, yet 19 new cases were diagnosed Wednesday. This, in what is one of the most vaccinated communities in the country – a city of 30,000 that has also instituted forced masking, a six-foot distance and mandatory limits on gatherings. Not quite Australia, but they can see it from there.
Plus, breakthroughs and re-infections are already on the rise in Alaska. As of the end of September 2021, a total of 13,265 breakthrough cases of the Covid-19 vaccine have been documented among residents of Alaska, according to the Alaska Department of Health and Human Services. We have to keep in mind that most Alaskans didn't even have access to the vaccine until March 2021, and yet by September the advances were multiplying by leaps and bounds.
While the medical community has suffered reputational damage as a result of its changing and misguided advice, and if the political class has outdone itself in the scare tactics it perpetuated, the social media mass grave has not been very useful either. This virus is serious, and those who diminish or reject its dangers do so at their own risk, and that of the community as a whole.
But social media folks are not to blame for the misinformation. Much of what they trade is no more misinformed than what is provided to them by Big Pharma and its minions at the FDA, CDC, and the mainstream media. Alaskans read a lot; should they reject the repression they see happening in the world? Shouldn't Alaskans take a stand so that their communities do not look like Australian quarantine camps? Shouldn't they be fighting for the Constitution?
Are the experiences of the Israelis to be overlooked? Is Ivermectin, which is a drug commonly used to treat Covid around the world, such a danger that Alaskans cannot access it? What's the harm in telling Alaskans to stock up on vitamin D, lose weight, boost their immune systems with zinc and quercetin, and get plenty of exercise?
What about the stories Alaskans told Must read Alaska on doctors, nurses and health care practitioners who discriminate against the unvaccinated or refuse to treat them altogether? Are these stories not relevant? What about mandates for workers to get vaccinated or lose their jobs? Are the experiences of these Alaskans "disinformation"?
And most importantly, what exactly is misinformation at a time when some doctors, from Dr Fauci to our local medical mafia in Providence, have become politicized and are asking Anchorage rulers to adopt behavioral mandates? From this perch, it seems that it was only because of the strong libertarian tendency of the Alaskans that we were able to avoid the vaccine passports now adopted in Washington, Oregon and California.
Dr Zink's writing in the Wa-Po belittled the Alaskans. This has placed the blame on them for a virus that is a global roller coaster of increasing intensity and challenge. She didn't help the doctors' case, and she insulted Alaskans by calling them too stupid or stubborn to tell good news from bad in a world where information changes rapidly and a lot is deserving of doubt.
Suzanne Downing is the editor of Must Read Alaska.