Tackling Fatty Liver Disease Can Help Protect You Against Most Diseases | Delhi News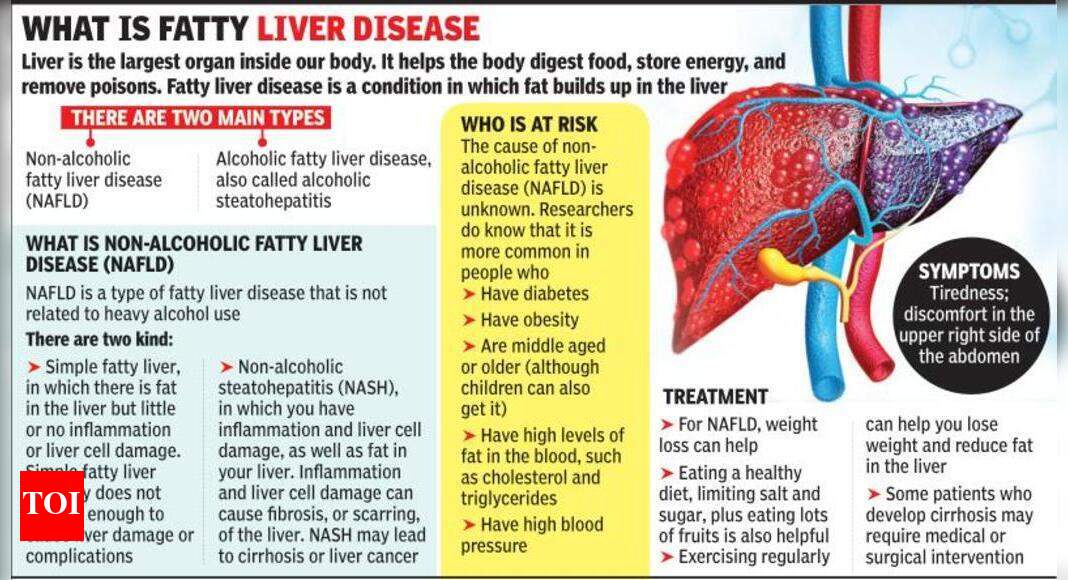 New Delhi: Fatty liver disease is central to all non-communicable diseases (NCDs), including diabetes, heart disease and certain cancers. If the prevalence of fatty liver disease is controlled, doctors say, it is possible to reduce the burden of most NCDs and, therefore, the resulting human and economic losses.
Dr SK Sarin, Vice Chancellor of the Institute of Liver and Biliary Science (ILBS), said a normal liver weighs around 1,200-1,500 grams and less than 5% of its total weight should be made of fat. If the fat content exceeds 10%, the condition is called fatty liver. "Today, almost a quarter of the world's population suffers from fatty liver disease, which can lead to fat-induced inflammation, scarring and ultimately liver cancer," he added.
ILBS VC was speaking at a webinar hosted by the institute at the end of a year since India included non-alcoholic fatty liver disease (NAFLD) in the national NCD program .
The liver is the largest organ inside our body. It helps us digest food, store energy and eliminate toxic compounds. Fatty liver disease is a condition in which fat builds up in the liver. It can be caused by consuming excessive calories from food and alcoholic beverages.
The body's immune system, innate or adaptive, does not like liver cells with excess fat, so it works hard to eliminate them. This leads to inflammation and death of liver cells, a condition called non-alcoholic steatohepatitis or NASH. When the liver heals from inflammation, a scar or fibrosis forms. Gradually it leads to cirrhosis and in some cases liver cancer," Sarin said.
Liver cancer, according to studies, is on the rise worldwide. According to experts, NAFLD is responsible for this increase.
However, how does fatty liver disease contribute to the development of diabetes or heart disease? Experts say blood sugar is regulated by liver cells. When there is fat, insulin cannot enter liver cells. This affects glucose metabolism to produce energy for the body, so more insulin is needed to enter the cell to produce energy. This leads to progressive exhaustion of the pancreas, leading to diabetes.
Excess fat accumulated in the liver can also leak into the blood, leading to higher levels of cholesterol and triglycerides which are known risk factors for heart disease. Fat can also travel to the arteries, leading to atherosclerosis, heart disease, and strokes. "If you can prevent fatty liver disease or treat it, it may be possible to reduce the burden of diabetes and other NCDs," Sarin said.
"Nearly 48% of all deaths in the Southeast Asia region are caused by NCDs," said Razia Pendse, director, Healthier Populations, NCDs and Mental Health for the regional office of the WHO for South East Asia.