Toxic workplaces and vaccine stress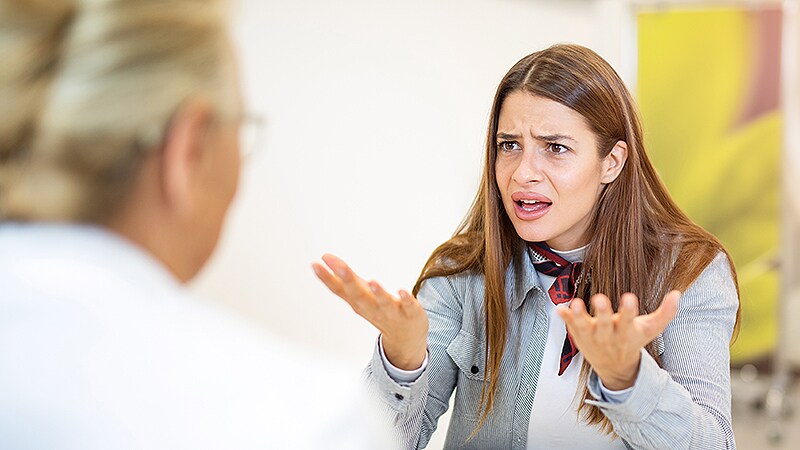 "Toxic" harassment
Nurse: I have 2 years of bedside nursing experience. I recently started work in a busy medical surgery unit, where the atmosphere is "toxic". The nurses on the unit form cliques and their behavior seems intimidating to me. I have a hard time finding help moving patients, and I am in desperate need of a mentor. Experienced nurses are not useful. How can I handle this? Should I resign?
Good man: Unfortunately, your scenario is common in nursing. Statistics show that over 50% of nurses report being harassed by colleagues, with career statistics even higher. This situation is not only frightening for you, but bullying can have unfortunate consequences at work: poor communication (as you have seen), reduced teamwork, and potentially dangerous situations for patients. Leaving this job does not guarantee that the next job will be better.
Techniques for dealing with bullies are varied, but direct communication is a good start. I once asked a nursing colleague "if her bullying attitude was working for her" because it was not working for me. I was also in a new position at the time.
Bullies may define their behavior as assertive. They may not realize how aggressive they seem. If you don't feel comfortable talking to one of your peers (in a quiet place, like a coffee break), then you should talk to your direct supervisor. Avoid naming names and be non-confrontational. Ask for a recommendation on a mentor and start with the nominee. Write down a few tasks you would like to review with the mentor (auscultation for heart sounds, lung sounds; or specific equipment, alarms) and continue from there.
Express your gratitude for the help. Praise works wonders. In a "toxic" situation, change must develop slowly. You have identified an unhealthy situation for both workers and patients; a supervisor should be aware. Plus, you need support. Hang on.
Do not disturb the doc
Nurse: I am a new nurse working in an orthopedic unit. One of my assigned patients was readmitted for acute / chronic back pain. She is often a patient on our wing and is a challenge for all nurses when the orthopedic surgeon admits it, as we are unable to meet her pain needs. She will frequently ring the bell, asking (in effect, demanding) pain relievers before they are "due".
The surgeon left instructions that we were not to call him to request additional doses of medication, or to adjust his pain plan once he had written orders.
As a nurse providing care to this patient, what should I do? Patient insisted she needed more medication, but doctor left verbal instructions not to call. Where are my responsibilities / obligations?
Good man: Few problems are more difficult for the nurse than trying to alleviate the patient's discomfort. One of the first suggestions I would make is to offer as many non-pharmacological options as possible to reduce pain. Does it need repositioning? Entertainment (music, TV, family visit)? Would a hot or cold drink help reduce anxiety and stress? Would she approve a visit from her religious leader (if applicable)? Ask her how she relieves pain at home when medication is not relieving her discomfort.
If none of these therapies are appealing and the patient continues to verbalize severe discomfort, the care process requires you to deal with her discomfort. Sorry, but that would include calling the doctor. If this makes you uncomfortable, seek help from a supervisor. When an orthopedic surgeon admits a patient for pain control, the doctor and nurse must collaborate on efforts that might control the patient's pain.
If more pain relievers are not an option (for safety reasons), medication for sleep or to decrease anxiety may be helpful.
With the help of the supervisor, you may be able to compromise with the doctor and the patient, setting limits on the number of reassessments / calls the unit can do overnight for refractory pain, for example every night. 4 hours. This technique could backfire on you, so it's best to have backups. Good luck!
The vaccine division
Nurse: I am an experienced nurse employed by a rural facility in a small town. We do not have a vaccination mandate at our facility, but senior leadership has encouraged vaccination. The subject of immunization has become a source of continuing tension with peers, and the disparate dialogue begins to affect the teamwork of the unit.
Arguments occur daily, with each "side" becoming more vocal and defensive with their opinions. When in charge, it becomes increasingly difficult for my team members to focus on the division of labor rather than debating the pros and cons of COVID vaccines.
Please help me defuse the tension while realigning our goal of providing excellent patient care.
Good man: Unfortunately for nurses working in health care, the division of our country can be reflected in hotly contested arguments and "values" at work. It's hard to leave opinions at home, especially when those ideas spill over into whether an employee term is imminent.
One of the most difficult lessons I have learned in my career is that all opinions, no matter how unique, have value. At first I wanted my peers to be more aligned with me instead of less – type A instead of B. As I matured in clinical experience, I realized that the B types in the workforce are just as necessary as the A. Different points of view make a better recipe for great teams.
To help defuse this overly tense situation, allow the group to exchange a dialogue in a friendly and assertive manner. You might consider adding the topic of vaccines to a staff meeting, where fears about COVID variants and vaccination might be a topic for nurses to discuss. Ask your peers to establish and apply ground rules for conversation. An offsite meeting (with pizza) might also encourage nurses to listen to opposing views.
Make sure nurses do not debate the topic where patients can hear what nurses are discussing, especially if voices are strained and / or angry. And if the tension seems to be escalating, human resources are excellent at providing team-building tools for nurses.
You have shown remarkable leadership in recognizing a problem that unity must solve.
Stay focused. Remember that all opinions represent the "truth" to the nurse expressing them.
Stay safe there!
Diane M. Goodman, BSN, MSN-C, APRN, is a semi-retired nurse practitioner who contributes to the COVID-19 task force teams and dismantling vaccine misinformation, as well as publishing in various locations nursing. For decades at the bedside, Goodman has worked in both private practice and intensive care, holding up to five nursing certifications simultaneously. She is also passionate about her dogs and watching movies, enjoying both outside of professional activities.
Follow Medscape on Facebook, Twitter, Instagram and YouTube