Video of anti-mandate activists storming New York food court has been viewed 1.4 million times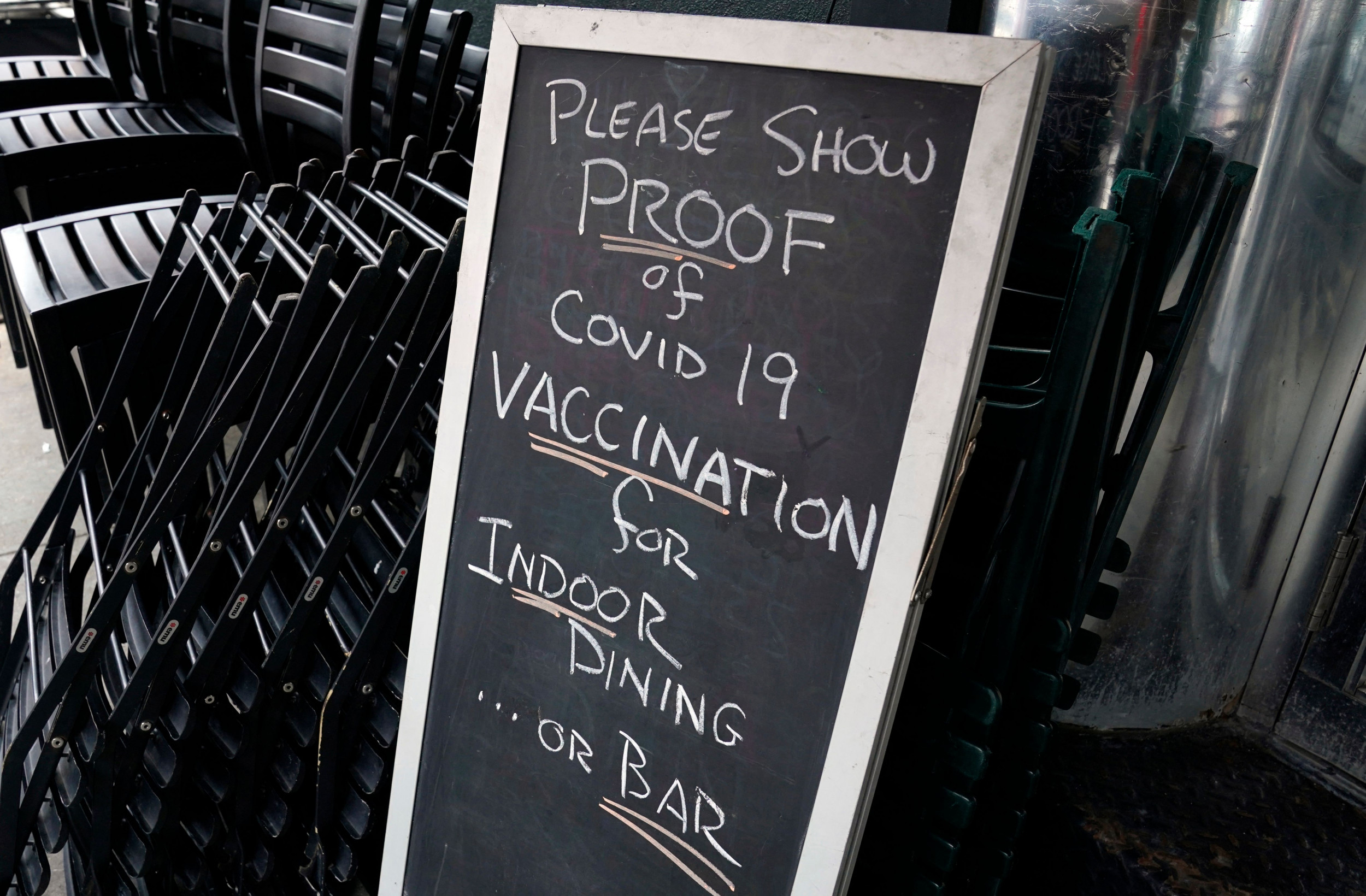 A group of people who broke into a food court for vaccinated people in Staten Island, New York, on Saturday were caught on a video which has been viewed 1.4 million times on social media.
A number of clips were filmed by freelance journalist Oliya Scootercaster for FreedomNews TV. Dozens of people can be seen in footage parading through a food court at Staten Island Mall protesting New York's COVID vaccine mandate.
A clip shows a crowd of people sitting at tables at the food court chanting "F *** Joe Biden!" and "United States!" like others who walk also sing along. A man can be seen waving the American flag as another man wearing a "Trump Won" t-shirt continues chanting the phrase, referring to the 2020 presidential election.
Disclaimer: The images below contain language which may be objectionable.
At one point, a protester holding a video camera said, "Everyone, go get some food and eat. This is what we are here for.
"We're going to meet over there and go to the food court and sit our butt and stay as long as we want!" She adds.
News week contacted the Staten Island Mall for comment, but had no response at time of posting.
According to the full video, protesters were not confronted with mall security or prevented from sitting at the food court, despite signs that COVID vaccinations are needed to sit in that area.
One of the anti-warrant protesters expresses his opposition to New York City's immunization warrants, saying, "Vaccinated or unvaccinated, we are all one people. We shouldn't be carrying papers or showing papers because we live in America."
"They psychologically screw up children's heads, they just don't know it yet," said another protester, referring to the school mask mandates. "What happened to 'my body, my choice?'"
New York City Mayor Bill de Blasio said people will need to provide proof of COVID vaccination to be able to dine at restaurants and enter other places such as gyms and entertainment venues.
"It is time for people to see vaccination as literally necessary to live a good, full and healthy life," the mayor said in August.
A spokesperson for de Blasio said News week that the city has provided conflict resolution training to restaurants and will continue to do so to help them adjust to the new COVID-related initiative, Key to NYC Pass. This program is a way for people to enter indoor settings using the NYC COVID Safe app, which stores an image of a person's vaccination card that they can then use as proof of vaccination status.