We won't give up on justice for Kingston's coal ash workers – Appalachian Voices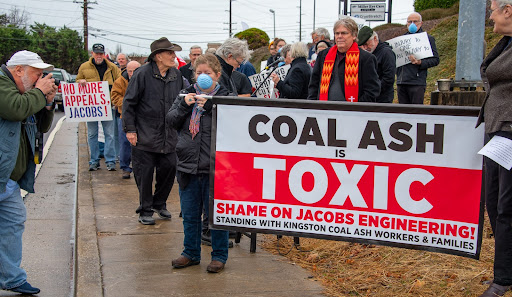 13 years after massive TVA ash dump, workers and advocates attend crucial hearing
On June 1, more than a dozen Kingston coal ash workers and their families appeared in Tennessee Supreme Court in Nashville. With them was an incredible display of faith, labor and environmental justice advocates, many of whom had traveled from across the state after participating in pre-hearing solidarity events.
The group gathered in the lobby for a prayer led by the Reverend Gordon Myers of Memphis. There were many other working families in mind who were too ill or otherwise unable to attend. Together, they filled every seat in the Tennessee Supreme Court room.
They were there to watch lawyers fight over an appeal that threatens workers' ability to seek financial claims for injuries they suffered while cleaning up toxic coal ash near the Kingston Fossil Plant.
The workers allege that during the six years of cleaning up the Kingston spill, supervisors told them it was safe to eat a pound of coal ash a day. Supervisors even destroyed the respirators and masks their employees brought to the job site. Since the 2008 Kingston coal ash spill, which was the largest industrial disaster in US history, nearly 60 workers have died and hundreds more are sick.
On one side of the courtroom was the attorney for Jacobs Engineering, the contractor hired by the Tennessee Valley Authority to lead the years-long cleanup that involved more than 900 workers. Jacobs has previously been found guilty in federal court of failing to exercise due diligence to keep workers safe.
This hearing focused on one of the contractor's recent appeals – Jacobs' claim that Kingston workers would have to prove silica-specific injuries like pulmonary fibrosis in order to seek damages due to a state law called the Tennessee Silica Claims Priorities Act.
Counsel for the workers argued that since their clients were pursuing claims for injuries caused by other harmful constituents of coal ash such as mercury, arsenic and lead, the TSCPA should not apply. Although the five Supreme Court justices asked insightful questions during the hearing, a decision is not expected for weeks or even months.
Waiting is something that workers and their community allies have become accustomed to, but it has never been done idly.
Organizations and community members from across Tennessee showed solidarity with Kingston Coal Ash workers and their families at a June 1 state Supreme Court hearing. Educator, activist and organizer Fran Ansley (narrator) made a powerful opening statement at an organized solidarity action for workers in Knoxville on May 31. Video by Robert Winslow with Southern Dialogues
In December 2018, the 10th anniversary of the Kingston coal ash spill and a month after Jacobs was found guilty in federal court, TVA placed an ad in the Roane County News describing the events after Kingston as a "legacy of promises kept" and included contractors as thanks for the clean-up work.
By then, workers and their families had endured years of pending medical appointments and bills, court dates and attorney fees. Since then, they have suffered unimaginable losses of loved ones in their quest for justice and accountability for the mistreatment they suffered during the cleanup.
Hear the wife of a Kingston worker tell her family's story about the cleanup (time: 6:15 p.m.) during a Facebook Live Kingston solidarity event.
While juggling these enormous challenges, families and advocates organized memorial events, health funds, rallies and newspaper ads honoring workers, and demanded that TVA provide health care coverage. health that it promised workers in 2009.
Sign the petition here !
In hindsight, some people say the reason workers weren't protected after Kingston was because of a financial calculation that determined workers and their families were expendable, that someone, or certain people , decided that providing workers with full protective gear would incite public fear and lawsuits, and that worker safety was not worth the cost.
Today, coal ash workers and communities across Tennessee know that our collective safety will not come without solidarity and concern for one another. We want coal ash communities in other states to know that the same is true for them.
Leaking coal ash storage ponds and dumps are impacting thousands of communities across the country.
Along Lake Michigan, residents fear that if the Northern Indiana Public Service Company goes ahead with its plan to leave its coal ash in place, a leaking levee could rupture and release 2 million tons of coal ash. coal in the lake and a nearby stream.
In Tennessee, local communities who saved the Memphis Sand aquifer from TVA coal ash leaking at the Allen Fossil plant are now fighting a secret decision to haul that ash by an environmental justice community to a landfill near.
Coal plants across the country are closing, and a big part of that transition is deciding how to permanently store the coal ash and what steps will be taken to protect workers and communities while the toxic ash is extracted and disposed of. water tables and flood zones for drier places.
If the Tennessee Supreme Court rules in favor of Jacobs, none of the Kingston workers involved in the lawsuit will be compensated for their years of medical bills, funeral expenses and suffering.
Such a move could encourage companies across the country to neglect coal ash worker safety, and would also set a negative precedent for future cases of coal ash injuries among workers and community members. Tennessee. So much hinges on this decision for workers – the expected outcome cannot be taken lightly.
Yet, as advocates, friends and loved ones, we will not give up on justice for first responders in Kingston.
Please share this article with the hashtag #RememberKingston and demand justice for Kingston's coal ash workers.